From the Pennsylvania"One Book, Every Young Child" tour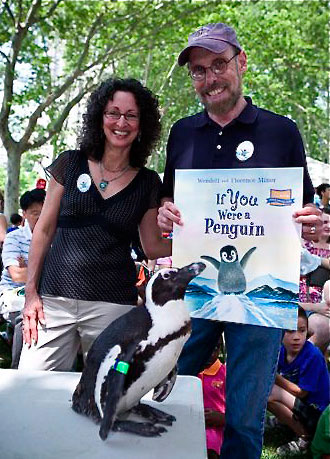 With Elvis the Penguin © Marc Soracco Photography Inc. 2009

The Abraham Lincoln Presidential Library and Museum Bicentennial Celebration

| | | |
| --- | --- | --- |
| | | |
| Wendell and scale model of the Lincoln funeral train | Wendell and author Robert Burleigh with "the Lincolns" | Wendell's view at the Bicentennial Dinner |
"Grand Canyon" book presented in Arizona

| | |
| --- | --- |
| | |
| Governor Napolitano present's Wendell's Grand Canyon book to thefirst 4th grade class in Arizona. 93,000 copies will be distributed to every 4th grader in the state. See Breaking News heading for more details. | Arizona 4th graders with the first distributed copies of "Grand Canyon: Exploring a Natural Wonder." |


Book Signings/School Visits 2009


February 7 - Saturday 12:00 - 2:00 pm
Book signing
"Abraham Lincoln Comes Home"
Books of Wonder
18 West 18th St.
New York City
For information:
(212) 989-3270
store@booksofwonder.com
www.booksofwonder.com


February 12 - Thursday
Lincoln Bicentennial Authors Event
Abraham Lincoln Presidential Museum
500 East Madison Street
Springfield, IL 62701
For information contact Ian Hunt:
(217) 558-8892 / ihunt@alpm.org
www.alplm.org


February 16 - Monday 10:00 a.m.
Book signing
Florence and Wendell Minor's
"If You Were a Penguin" and
"Abraham Lincoln Comes Home"
R.J.Julia Booksellers
Madison, CT
For information contact: Meghan Ownbey
(203) 245-3959
mownbey@rjjulia.com


March 11 - Wednesday
School visit
John Shields Elementary School
Sugar Grove, IL


March 12-13 Thursday-Friday
Children's Literature Conference
Northern Illinois University
DeKalb, IL
For information contact: Marti Jernberg
(815) 753-3005
mjernber@niu.edu


March 17 Tuesday
JFK Library Teachers' Conference
John F. Kennedy Presidential Library
and Museum
Boston, MA
For information contact:
Samuel Rubin
(617) 514-1650
sam.rubin@nara.gov


March 31st Tuesday
Harrisburg, PA
Kick-off for the Pennsylvania "One Book, Every Young Child"
tour with "If You Were a Penguin"
For information about the tour: http://www.paonebook.org


April 25th - Saturday 12:00 - 2:00 pm
Book signing
"If You Were a Penguin"
Books of Wonder
18 West 18th St.
New York City
Please join us and these other terrific authors and artists:
Jules Feiffer, Kate Feiffer, Diane Goode, Michael Rosen,
and Dan Yaccarino
For information:
(212) 989-3270
store@booksofwonder.com
www.booksofwonder.com


July 18th - Saturday 1:00 - 4:00 pm
Book signing
"Look to the Stars"
Cradle of Aviation Museum
One Davis Avenue
Garden City, New York 11530
www.cradleofaviation.org
516-572-4038


July 31st - Friday evening
Book signing
"If You Were a Penguin" and
"Look to the Stars"
Hotchkiss Library of Sharon
10 Upper Main St.,
Sharon CT 06069
www.hotchkisslibrary.org
860-364-5041


September 3 – Thursday, 5:30 pm
Opening reception for the exhibition
"Wendell Minor: In the American Tradition"
Selby Gallery, Ringling College of Art + Design
Sarasota, FL
www.ringling.edu/selbygallery


September 12 – Saturday, 12:00 - 2:00 pm
Book signing with astronaut Buzz Aldrin
"Look to the Stars"
Books of Wonder
18 West 18th St.
New York City
www.booksofwonder.com


September 20 – Sunday, 2:00 - 4:00 pm
Opening reception for the exhibition
"Wendell Minor: Reaching for the Moon"
New Britain Museum of American Art
56 Lexington St.
New Britain, CT
www.nbmaa.org


September 27 - Sunday (time TBA)
Book signing
"Celebrate Children's Book Day"
Washington Irving's Sunnyside
Sunnyside, NY
For information contact Beth Vetare Civitello
bethvetare@gmail.com


October 3 – Saturday, 12:00 - 2:00 pm
OCTOBER BOOK BONANZA Book signing
with 9 great children's book authors and artists,
among them - Wendell, Loren Long, Jerry Pinkney
and Genady Spirin to name a few!
Books of Wonder
18 West 18th St.
New York City
www.booksofwonder.com


October 18 – Sunday, 1:00 – 3:00 pm
Halloween event and book signing
New Britain Museum of American Art
56 Lexington St.
New Britain, CT
www.nbmaa.org


October 22 - Thursday 11:00 a.m.
Book signing with Astronaut Buzz Aldrin
"Look to the Stars"
Cradle of Aviation Museum
One Davis Avenue
Garden City, New York 11530
www.cradleofaviation.org
516-572-4038


October 24 – Saturday morning
Presentation and book signing
"Black, White & Read All Over"
Carnagie Library
Pittsburgh, PA
www.pittsburghlectures.org


November 7 – Saturday, 2:00 pm
Book signing
"Look to the Stars"
"The Last Polar Bear" and
"If You Were a Penguin"
The Hickory Stick Bookshop
Washington Depot, CT
860 868-0525
www.hickorystickbookshop.com


November 8 – Sunday, 4:00 – 6:00 pm
Artist Reception
20th Annual Illustrator's Exhibit
Meet over 50 premier Picture Book Illustrators & Authors
R. Michelson Galleries

132 Main Street

Northampton, MA 

413-586-3964
www.RMichelson.com


November 14 – Saturday, Time TBA
Book signing
UConn Book Fair
18th Annual Connecticut Children's Book Fair
University of Connecticut, Storrs
www.bookfair.uconn.edu


November 21 – Saturday, Time TBA
Book signing
Elm Street Books
35 Elm Street
New Canaan
www.elmstreetbooks.com


November 22 – Sunday, 1:00 – 3:00 pm
Space Day event and book signing
New Britain Museum of American Art
56 Lexington St.
New Britain, CT
www.nbmaa.org


December 2 – Wednesday, 2:00 pm
Presentation and Book signing
Southbury Public Library
Southbury, CT
www.southburylibrary.org


December 3 – Thursday, 6:00-8:00 pm
Group book signing for the book
"Everything I Know I Learned from a Children's Book"
Books of Wonder
18 West 18th St.
New York City
www.booksofwonder.com


Book Signings/School Visits 2008


February 2-3 Saturday & Sunday
Presentations and book signings
Leigh Yawkey Woodson Museum of Art
Wausau, WI
For information please contact Erin Narloch
enarloch@lywam.org


April 4
School visit
Walkill Sr. High School
Walkill, NY


April 10
School visit
Hindley School
Darien, CT


April 12 Saturday, 2-4 pm
Book signing
"The Wolves Are Back"
Smithsonian-Natural History Museum
Washington, DC
For information contact Joyce Burns
burnsjm@si.edu


April 15 Tuesday
Book signing
Kids Ink
Indianapolis, IN
For information contact Shirley Mullin
kidsink@indy.net


April 16 Wednesday
School visit
Park Tudor School
Indianapolis, IN


April 19 - Saturday 1:00 pm
Book signing "The Wolves Are Back"
with author Jean Craighead George
From 11:00-12 noon, come meet
ATKA, the Ambassador Wolf
Borders Bookstore
Mt. Kisco, NY
For information (914) 241-8387
For additional information contact
the Wolf Conservation Center
www.nywolf.org
(914) 763-2373

*This event re-scheduled for May 31*
April 26 - Saturday 12:00 noon
Book signing "The Wolves Are Back"
The Bookworm
West Hartford, CT
For information (860) 233-2653


April 27 - Sunday 1:00
Book signing "The Wolves Are Back"
RJ Julia
Madison, CT
For information (203) 245-3959
www.rjjulia.com


April 28
School visit
Kent Center School
Kent, CT


April 30
School visit
Shepaug Valley Middle School
Washington, CT


May 3 - Saturday 2:00 – 3:30
Book signing "The Wolves Are Back"
with author Jean Craighead George
Hickory Stick Bookshop
Washington, CT
For information (860) 868-0525
www.hickorystickbookshop.com


May 10 - Saturday 3:00
Book signing "The Wolves Are Back"
Merritt Books
Millbrook, NY
For information (845) 677-5857
www.merrittbooks.com


May 28
School visit
Driggs School
Waterbury, CT


May 30
School visit
Aldrich School
Howell, NJ


May 31 - Saturday 12:00 noon – 1:00 pm
Book signing "The Wolves Are Back"
The Bookworm
West Hartford, CT
For information (860) 233-2653

June 14 - Saturday 11:00 am
Presentations and book signing
Plainville Public Library
Plainville, CT
For information contact Mary Engels
MEngels@cslib.or


June 23 - Wednesday 3:00 pm
Presentation and book signing
Wilton Public Library
Wilton, CT
For information contact Laura Schwemm
lschwemm@wiltonlibrary.org


July 18 - Friday
Presentations and book signing
Books for Young Readers Conference
Brigham Young University
Provo, UT
For information contact Susan Overstreet
Susan.Overstreet@byu.edu


July 26 - Saturday
Presentation and book signing
"Exploring Our Blue Earth"
Outdoor Festival
New London, CT
For information contact Paige Bacon
860 536-3795
paige.banksquarebooks@gmail.com


August 1 - Friday 5:30 – 8 pm
Book signing "The Wolves Are Back" and other books
The Hotchkiss Library of Sharon
Sharon, CT
More information to come


August 9 - Saturday
Presentation and book signings
Bentonville Public Library
Bentonville, AR
For information contact Sue Pekel
spekel@bentonvillear.com
(479) 271-6816


September 20 - Saturday
Presentations and book signings
Crystal Bridges Museum of American Art
Bentonville, AR
For information contact Lynn Berkowitz
lynn.berkowitz@crystalbridges.org
(479) 418-5707


September 28 - Sunday (time TBA)
Book signing
"Celebrate Children's Book Day"
Washington Irving's Sunnyside
Tarrytown, New York
Sunnyside, NY
For information contact Beth Vetare Civitello
bethvetare@gmail.com
(914) 494-6992


October 3
School visit
Powhatan School
Boyce, VA


Oct. 28 - Tuesday
Book signing "Abraham Lincoln Comes Home"
and others
Montessori School
Washington, CT


Nov. 15 - Saturday, 2-5 pm
Holiday Book signing
"Sip & Sign"
Millbrook Vineyards & Winery
26 Wing Road
Millbrook, NY
www.millbrookwine.com
For information:
Joanne Michaels
jmichaels2@hvc.rr.com
(845) 679-5719


Nov. 16 - Sunday, 4-6 pm
19th Annual Children's Illustration Show
Opening reception
R. Michelson Galleries
132 Main Street
Northampton, MA
(413) 586-3964
www.RMichelson.com


Nov. 18 - Tuesday evening, 5:30 - 8:30 pm
Book signing "Abraham Lincoln Comes Home"
and "Christmas Tree"
National Press Club
Washington, DC
www.press.org
For information: Carole Sargent
cs432@georgetown.edu


December 20 - Saturday 2:00 pm
Book signing
Florence and Wendell Minor's
"If You Were a Penguin"
Hickory Stick Bookshop
Washington, CT
For information: (860) 868-0525
www.hickorystickbookshop.com


Book Signings 2007


December 6 – Thursday 3:30 pm
The Women's Forum
Litchfield, CT


December 2
The Eric Carle Museum of Picture Book Art
Amherst, MA


November 17
The Eric Carle Museum of Picture Book Art
Amherst, MA


November 16
"Ghost Ship" book signing
with Mary Higgins Clark
NCTE
New York City


November 10-11
Mazza Museum
Findlay, OH


October 20 - Saturday
Books of Wonder
New York, NY


September 23 - Sunday
The 10th Annual "Celebrate Children's Book Day"
Tarrytown, New York


September 9 - Sunday 3:30 pm
Katonah Museum
Katonah, NY


July 6
with author Mary Higgins Clark
"Ghost Ship"
Yellow Umbrella Books
Chatham, MA


July 5
with author Mary Higgins Clark
"Ghost Ship"
Eight Cousins
Falmouth, MA


June 6 - Wednesday 6:30 pm
with author Mary Higgins Clark
"Ghost Ship"
Hickory Stick Bookshop
Washington Depot, CT


April 24 - Tuesday, 10:30 am
with author Mary Higgins Clark
"Ghost Ship"
Barnes & Noble
Huntington Station, NY


April 19
Signed copies of "Ghost Ship"
by Mary Higgins Clark
and Wendell Minor
will be available at
BOOKENDS
Ridgewood, NJ 07450


April 15
with author Mary Higgins Clark
"Ghost Ship"
Books of Wonder
New York City


March 25
Barnes & Noble
Danbury, CT


March 24
The Hickory Stick Bookshop
Washington Depot, CT


March 17
Books of Wonder
New York City








Solo Exhibitions 2007-2009

September 2, 2007 – January 5, 2008
"Wendell Minor: In the American Tradition"
Hudgens Center for the Arts
Duluth, GA

February 2, 2008 – April 13, 2008
"Wendell Minor: In the American Tradition"
Leigh Yawkey Woodson Art Museum
Wausau, WI

May 1, 2008 – July 27, 2008
"Wendell Minor: In the American Tradition"
Children's Museum of Houston
Houston, TX

August 9, 2008 – October 18, 2008
"Wendell Minor: In the American Tradition"
Crystal Bridges Museum of American Art
Bentonville, AK

September 2009
Sept. 12 - Dec. 12
"Wendell Minor: Reaching for the Moon"
New Britain Museum of American Art
56 Lexington St.
New Britain, CT
www.nbmaa.org


Group Exhibitions 2007-2008

April 27 – July 8, 2007
"Children's Illustrations from the Sanford B.D. Low
Illustration Collection"
New Britain Museum of American Art
New Britain, CT


July 1, 2007 – Oct. 21, 2007
"Children Should be Seen: The Image of the Child
in American Picture Book Art"
Katonah Museum of Art
Katonah, NY


Nov. 9, 2007 – Feb. 3, 2008
Low Illustration Committee Members Show
New Britain Museum of American Art
56 Lexington Street
New Britain, CT


Nov. 15, 2007 – Mar. 9, 2008
"Children Should be Seen: The Image of the Child
in American Picture Book Art"
Eric Carle Museum of Picture Book Art
Amherst, MA

Events 2006

Memorial Day Weekend book signing at
historic Cogswell Tavern in New Preston, Conneticut
May 7 - Slide Presentation/book signing
The Eric Carle Museum of Picture Book Art
Amherst, MA


May 13 - Book signing
Books of Wonder
New York City


May 27-29th Connecticut events:
Exhibition of "Yankee Doodle America"art and book signing
Bryan Memorial Town Hall


Sunday, May 28 "Yankee Doodle America" book signing
Cogswell Tavern


Monday, May 29
Exhibition of "Yankee Doodle America"art and booksigning
Bryan Memorial Town Hall


August 4th - Book signing
"Yankee Doodle America" "Luck" and others
The Hotchkiss Library of Sharon


September 7th - Presentation/Book signing/Exhibition
Southbury Public Library


September 10th - Book signing
Celebrate Children's Book Day
Sunnyside, NY


Sept. 21 and 22 - Slide Presentation/book signing
Santa Fe Trail Children's Literature Festival
Sterling, KS


November 1 and 2 - Slide Presentation/book signing
Capital Area District Library
Lansing, MI


November 11th - Book signing
University of Connecticut Book Fair
Storrs, CT




Solo Exhibitions – 2006

NATIONAL CENTER FOR CHILDREN'S ILLUSTRATED LITERATURE
Abilene, TX


SOUTHBURY PUBLIC LIBRARY
Paintings from the book "Yankee Doodle America"
Southbury, CT



Group Exhibitions – 2006
MERIDIAN INTERNATIONAL CENTER
Washington, DC
"This is Where I Live"



About "Yankee Doodle America"
From Publishers Weekly Bookshelf:

Acclaimed artist Wendell Minor has provided the illustrations for a number of children's books that illuminate the history of this country, including Katharine Lee Bates's America the Beautiful, Abe Lincoln Remembers by Ann Turner and Reaching for the Moon by astronaut Buzz Aldrin. Now, in Yankee Doodle America: The Spirit of 1776, he takes a solo journey back to the American past, examining the period leading up to, during and immediately following the Revolution. Due next month from Putnam with a 45,000-copy first printing, this alphabetical roundup of people, places and events pivotal to the era has an intriguing period look, as it is illustrated with replicas of the hand painted wooden signs that welcomed colonists to taverns and inns that served as the hubs of their social and political lives.

There were several sources of inspiration for Minor's project. What the author calls "perhaps the initial germ of this book" was a painting on wood that he created for the cover of a book published in the Revolution's bicentennial year, Patrick Henry: Firebrand of the Revolution by Nardi Reeder Campion. "When I now look at that painting, I realize that it could very easily be part of Yankee Doodle America," he says. "Sometimes things take a long time to happen—in this case it was only 30 years!"

Two more recent books for which he created cover art—David McCullough's John Adams and 1776—also fueled his interest in the Revolutionary era. "I've always found this period fascinating and I thought I knew quite a bit about it," he says. "But when I read 1776 and started to do my own investigating, I realized that there was a lot I didn't know. David and I have talked over the years about the importance of educating children about the founding of this country. I was very interested in finding out exactly what books existed for young readers on the subject."

After Minor decided to tackle the topic in his own book, another interest of his—the alphabet book genre—helped him select his format. "I have always been fascinated by this particular mode for expressing an idea," he comments. "I think that every illustrator should try a book in the ABC genre at least once. I thought maybe I could do something unique with this format."

And he did. Perhaps what makes his tour of Revolution-era highlights unique is its art, which was inspired by an exhibition Minor viewed at the Connecticut Historical Society. This organization, he observes, "has the largest collection of early inn and tavern signs in the country. The signs not only marked the beginnings of an art form, but they were also the first source of income for American artists, artists like Edward Hicks and Benjamin West. Artists would paint these signs, perhaps for room and board, perhaps for a few dollars. Most early inns and taverns were regular homes and were unmarked as public houses except for these signboards. The more successful the inn, the more elaborate the sign. They ranged from those with very simple graphics to more detailed designs, often depicting a famous individual or event."

From Slabs of Wood to Printed Page

Minor was thrilled when John Reichling, whom he describes as "a very talented woodworker and craftsman," agreed to create the wooden signboards that would serve as canvas for the book's art. Minor sent him two drawings of pattern prototypes—one of the simple and one of the more elaborate historical design—and Reichling had a year to fashion 28 signs, one for each alphabet letter, one for the book's cover and one, says Minor wryly, "just in case."

To create each of the more elaborate signboards, Minor points out, Reichling used more than 20 small pieces of wood. Once the signs arrived in Minor's studio, his painstaking task began. "Each board had to be primed, after which I proceeded to take my drawings and transfer them onto the boards in acrylic paint," he recalls. "I did the lettering and antiquing by hand, which was quite a laborious process."

To ensure an authentic look, Minor used a razor blade and fine brushes to give the tavern signs their weathered, vintage feel. He notes, "Thereare some craft solutions you can apply to get that cracked surface, but that would have made the signs too uniform."

In creating the sign's images, Minor was equally committed to keeping true to history. "I have always been interested in American folk art," he says. "It has a quality of innocence and honesty that is so indicative of these earlier times. I put myself in the mind of an 18th-century itinerant artist and pretended to move from town to town. As a result, creating each of these signs was a very different experience."

And Minor hopes that his journey will encourage readers to appreciate the remarkable individuals and milestones spotlighted in these pages. "The freedom that we enjoy today in this country is nothing short of a miracle," he says. "It's important to remember that this resulted from the beliefs of a few leaders and the efforts of a few thousand soldiers who were the core of the continental army and stuck with it all the way. It's remarkable when you consider that only one-third of the colonists were for independence—one-third of them were ambivalent and the rest were loyalists. Too many of us take our freedoms for granted and I firmly believe we have to be constantly reminded about how lucky we are to live in this country."

Reaction from the Field

Based on early response from retailers, Yankee Doodle America successfully delivers this message. With her store planted firmly on patriotic and historic soil, Sarah Gunn, owner of The Toymaker of Williamsburg in Colonial Williamsburg, Va., has high hopes for the book. In her words, "The illustrations are wonderful, bright and traditional, and here in Williamsburg that is just the spirit we want to convey. At the end of the day we are trying to encourage children to recognize and understand where our country started and how we got our freedom and this book does just that."

Gunn, who has placed a sizable order for Yankee Doodle America and fully expects she'll need to reorder, considers Minor's book an ideal parent, grandparent and gift buy. "I see this as a book that parents will give their children, who will then likely pass it on to their children. This is definitely a keeper."

"I personally look forward to selling this book," says Dinah Paul, owner of A Likely Story in Alexandria, Va. "Wendell Minor's art always connects with his audience, and here he effectively brings the story of the Revolution down to the elementary level. With this text and these pictures, kids are really going to see the Revolution in a whole new light."

Paul says that when she showed the book to her staff, which includes several teachers, their reaction was so positive that she immediately called the publisher to increase the size of her initial order. Located just 10 minutes from Mount Vernon, A Likely Story boasts a prime location for selling books on this historical era, Paul reports, especially those about George Washington, who obviously plays a key role in Yankee Doodle America. "We'll probably do a window display around the book," she comments. "It's coming out at the perfect time for displaying patriotic-themed books, since that will be the beginning of high tourist season."

Minor has heartfelt words of gratitude to David McCullough (who offers an enthusiastic endorsement of Yankee Doodle America on its cover) for the historian's work. "I hold him in such high regard," says Minor. "He has brought so many people to American history who otherwise may not have had the opportunity to learn about it." When praised for doing much the same, Minor demurely responds, "Well, I hope so. I know that I am very much committed to it and I do have several other projects in the works that carry on this theme."

That's flag-waving worthy news for young history buffs, their parents and teachers—and of course for booksellers.

Reaching for the Moon
by Buzz Aldrin.

Wendell illustrates the story of Buzz's life.

Buy This Book

To visit Buzz Aldrin.com please click on the image at left.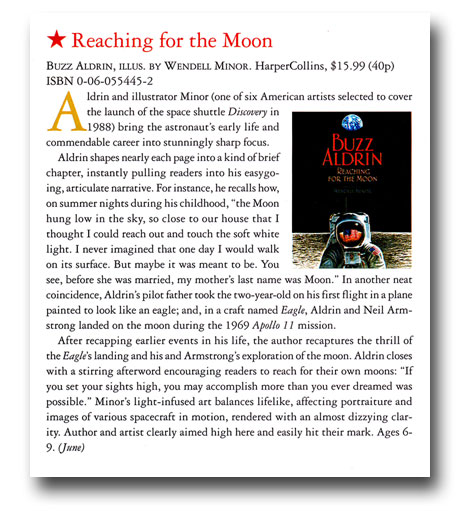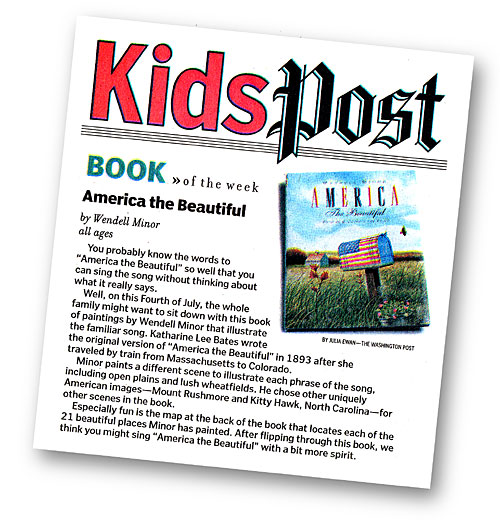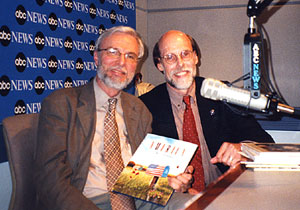 Events 2005

March 17 and 18 - 2005 Forum on Children and Literature
Keynote Speaker
UTAH VALLEY STATE COLLEGE
Orem, Utah


April 27 - School/Slide Presentations
Wickford Middle School
North Kingstown, Rhode Island


May 2 - Panelist: Visually Portraying a Hero Without a Camera
INTERNATIONAL READING ASSOCIATION 50th Annual Convention
San Antonio, Texas


May 26 - Book Signing/Exhibition
Book Signing with astronaut/author Buzz Aldrin
"Reaching For the Moon"
BOOKS OF WONDER
New York, New York


May 27 - Book Signing
Book Signing with astronaut/author Buzz Aldrin
"Reaching For the Moon"
BARNES & NOBLE
Bethesda, MD


May 28 - Reading/Book Signing
Book Signing with astronaut/author Buzz Aldrin
"Reaching For the Moon"
Gallery 104 - West End
NATIONAL AIR AND SPACE MUSEUM
National Mall
Washington, DC


June 18 - Book Signing
THE HICKORY STICK BOOKSHOP
Washington Depot, CT


August 12 - Book Signing
Book Signing with astronaut/author Buzz Aldrin
BARNES & NOBLE
Paramus, NJ


September 21 - Wednesday
Book Signing with astronaut/author Buzz Aldrin
Olsson's Bookstore
Arlington, VA


September 24 - Presentation and Book Signing
with astronaut/author Buzz Aldrin
"Reaching For the Moon"
National Book Festival
The National Mall
Washington, DC


November 10 - Book Signing/Exhibition
Grand Opening of Elizabeth Stone Gallery
Alexandria, VA


November 12 - Saturday Book Signing
University of Connecticut
Children's Book Fair
Storrs, Connecticut


November 17 Book Signing
The National Press Club
Washington, DC


December 9 - Friday Book Signing
Holiday in the Depot"
THE HICKORY STICK BOOKSHOP
Washington Depot, CT


December 10 Holiday Book Signing
BOOKS OF WONDER
New York, New York


December 12 - Book Signing
BOOKS, BYTES & BEYOND
Glen Rock, New Jersey

Solo Exhibitions – 2005
BOOKS OF WONDER
New York, New York
"Reaching For the Moon"
Original art and prints from the book by Buzz Aldrin


THE SILO
New Milford, Connecticut
"Wendell Minor's America"
Original art created for publishing, and personal landscapes



Events 2004

Midland Center for the Arts
Midland, Michigan

Exhibition: "Wendell Minor's America the Beautiful:
Celebrating 15 Years of Picture Book Art"



May 7 - Slide Presentations/book signings
Delta College
University Center, Michigan



May 23 - Slide Presentation/talk/book signing/art exhibit
Pequot Library
Southport, Connecticut



May 29 - Book signing
Hickory Stick Bookshop
Washington Depot, Connecticut



July 28 - Slide Presentation/talk/book signings
Mazza Summer Institute



August 6 - Book signing
The Hotchkiss Library of Sharon
Sharon, Connecticut



September 11 - Presentation, Book signing, Panel Discussion
Midwest Literary Festival
Aurora, Illinois



September 26 - Book signing
The 7th Annual "Celebrate Children's Book Day"
Washington Irving's Sunnyside
Tarrytown, New York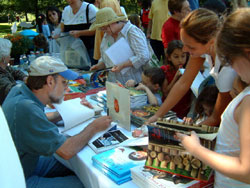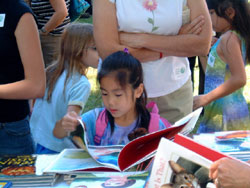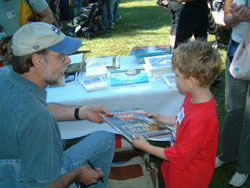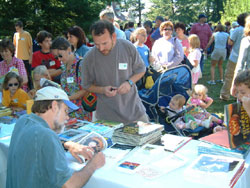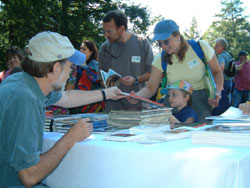 Photos by Katie King

October 30 - Slide Presentation/book signings
Keene State College
Children's Literature Festival
Keene, NH



November 20 Book signing with Newbery-Award winning author
Jean Craighead George

The Second Story Bookshop
Chappaqua, New York

Events 2003


National Book Festival - Washington DC – 2003

| | |
| --- | --- |
| At the National Book Festival with authors Pat Conroy and Cassandra King | At the National Book Festival with illustrator/author Eric Rohmann, and authors Stephen L. Carter and Wally Lamb |
| At the National Book Festival with ABC News correspondent/author Lynn Sherr | Speaking at the National Book Festival |
Publishing party for "America the Beautiful" – 2003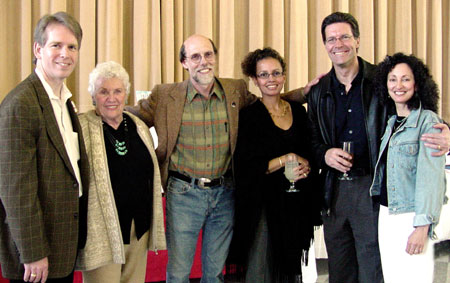 Left to right, President of Putnam's Children's Division, Doug Whiteman, author Jean Craighead George, Wendell Minor, Debra and Stone Phillips of "Dateline NBC" and Florence Minor.

Solo Exhibitions – 2004
Midland Center for the Arts
Alden B. Dow Museum of Science & Art
Midland, Michigan

"Wendell Minor's America the Beautiful:
Celebrating 15 Years of Picture Book Art"



Mazza Museum
Findlay, OH

"Wendell Minor's America the Beautiful:
Celebrating 15 Years of Picture Book Art"



Group Exhibitions – 2004
The Maritime Gallery at Mystic Seaport
Mystic, Connecticut

"Illustrating the Sea"